Training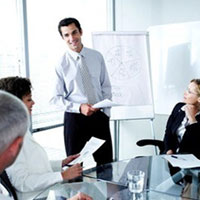 CJA Solutions offers a complete training and implementation service for our Microsoft Enterprise Project Management (EPM) Solution. This includes a complete training course for Microsoft Project 2003.

CJA Solutions is a Microsoft Certified Partner and a Microsoft Enterprise Premier Solution Provider. Our training staff members have trained people across the globe in Microsoft Project, Microsoft EPM, and related project management processes.

We provide a full spectrum of training courses and seminars that are custom developed in order to meet every possible situation for new users of Microsoft EPM. This might include project team members, executives or a combination of individuals associated with the project management process at your company. Our training solution can include either individual specific training courses revolving around particular software education or they can be designed to include varying aspects of your project management solution implementation process.

CJA Solutions provides on-site training seminars and courses with the UK. Our uniquely tailored training program offers your company the ability to better develop and utilize your staffing in a more efficient manner. Contact one of CJA Solutions training consultants today for additional information.



Training services



Because training and staff development are often expensive, your business will benefit from the maximum return on investment that will evolve when your staff members attend training provided by CJA Solutions. Our Microsoft Project and IT training courses will increase the efficiency and capabilities of your staff members in order to give you the edge that every business needs.



Training needs analysis (TNA)



Before recommending a specific training regimen, the training consultants of CJA Solutions will discuss your specific business and project management process and goals. This allows us to identify areas in which your staff could benefit from training programs and to develop custom training solutions that meet the current knowledge and experience of your staff.

Once the current status of your staff training and experienced has been evaluated, our consultants will match your staff with our training sessions that meet the needs of your business – and we can also then custom design training sessions to meet the unique needs of your staffing and project management process.

Our goal is to evaluate your specific training needs so that your staff is training appropriately in the areas where they will most benefit from training courses and our individual approach.



Course customization



CJA Solutions offers a full range of standard training courses with project management and IT training in mind. Often times your business will have specific individual needs, or areas for improvement. CJA Solutions can best address these needs through the use of a customized training program specifically developed to meet your business and staffing needs.

Our training programs can be offered as is, or we can provide customization with your company's specific project management process and methodology. Training courses can also be customized or written to meet specific client requirements. For more information about course customization or training in general, please contact a CJA Solutions training consultant today.



Train the trainer



If your organization requires an on-site trainer, you may wish to consider CJA Solutions' 'Train the Trainer' programmes. These programmes provide your staff trainer with not only the training skills necessary to implement a successful training programme at your company, but they also gain access to a complete range of CJA Solutions training materials for use with your other staff members.



About Our Training Consultants



Trainers with CJA Solutions are not only expert trainers, but they also bring together a vast amount of professional project management experience and expertise. Many have worked as Microsoft Project consultants. We feel strongly that in order to be effective at project management training, professional experience is a must.