Consultancy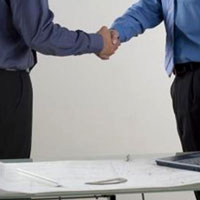 CJA Solutions provides end-to-end single source IT consultancy services. Our clients can rest assured that we never specify or recommend costly solutions that your company does not need. We carefully evaluate your unique situation to determine the IT infrastructure needs of your small or medium-sized business and an implementation plan for migration of your existing situation.

Some of our specific areas of expertise include:


| | |
| --- | --- |
| | Server and desktop system specification, deployment and upgrading; |
| | Network planning, installation; |
| | Office move planning and implementation, or branch office establishment; |
| | Exchange and Windows upgrades; |
| | Anti-Virus system implementation and recovery; |
| | Disaster recovery planning and implementation, including server replication; |
| | Storage solution planning and implementation; |
| | And many other areas. |

How do you decide whether you can benefit from CJA Solutions consultancy services?


| | |
| --- | --- |
| | Are you experiencing any IT issues, including slow computers, intermittent network interruptions or computer viruses? |
| | If not, are you completely confident that your IT infrastructure investments are protected from disasters now and in the future? |

If you answered yes to the first question or no to the second, then your business can most likely benefit from the complete CJA Solutions consultancy program which will allow you to develop confidence in the protection of your IT infrastructure while assisting you in better planning for the future IT development of your business.

We understand that small and medium business owners are far too involved with ensuring the day-to-day operations of their company and that IT planning may be the furthest thing from their list of priorities.

Contacting consultancy services from CJA Solutions will assist you in eliminating the threat of potential security problems within your network and desktop environments, diagnosing and eliminating current IT problems, improving the day-to-day status of your company's network infrastructure and in planning and budgeting for a successful and scalable IT lifecycle that will carry your business into the future with minimal interruption.

Our consultants are industry-trained and experienced professionals who have built a reputation for building client relationships through excellent consultancy service and support. Regardless of your business' specific situation and plans for the future, we have experts that will make a great match for you. Our goal is to provide you with cost-effective solutions that can reduce your IT expenditures and allow your desktop and network to function more efficiently than ever before.

CJA Solutions consultants are available to provide you with advice or troubleshooting for any area of your IT infrastructure. We look forward to establishing a great working relationship with your business, and helping you to reduce your IT interruptions through proper infrastructure planning and protection.