Project Management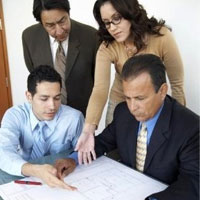 CJA Solutions is pleased to offer the Microsoft Enterprise Project Management Solution, which greatly improves the planning and project management process through centralization and standardization.

Through a unique approach utilizing Microsoft Project and WebProject, the EPM solution provides a complete project management process that allows for scalability and customizable web reporting and tracking features. No longer will single-point project management provide process slow-downs. The utilization of WebProject allows for remote access to project data over an intranet or even the internet.

Regardless of job function, every employee involved in a specific project can view and modify pertinent information related to the project management process, allowing your company to better meet projected goals and substantially improve efficiency.

If your company could benefit from any of the following, then evaluating the CJA Solutions Microsoft EPM Solution is something to strongly consider:


| | |
| --- | --- |
| | Web-based project reporting and analysis; |
| | Web-based portfolio and project performance information; |
| | Enterprise resource management; |
| | Portfolio modelling; |
| | Customizable integration with existing line of business. |

CJA Solutions offers clients a comprehensive range of Business Change Management, Business Process Outsourcing and General Management Consultancy services in addition to the EPM solution. CJA Solutions project management specialists bring a large variety of experiences to the table, giving us the unique ability to provide advice and implementation support for your business specific management needs.